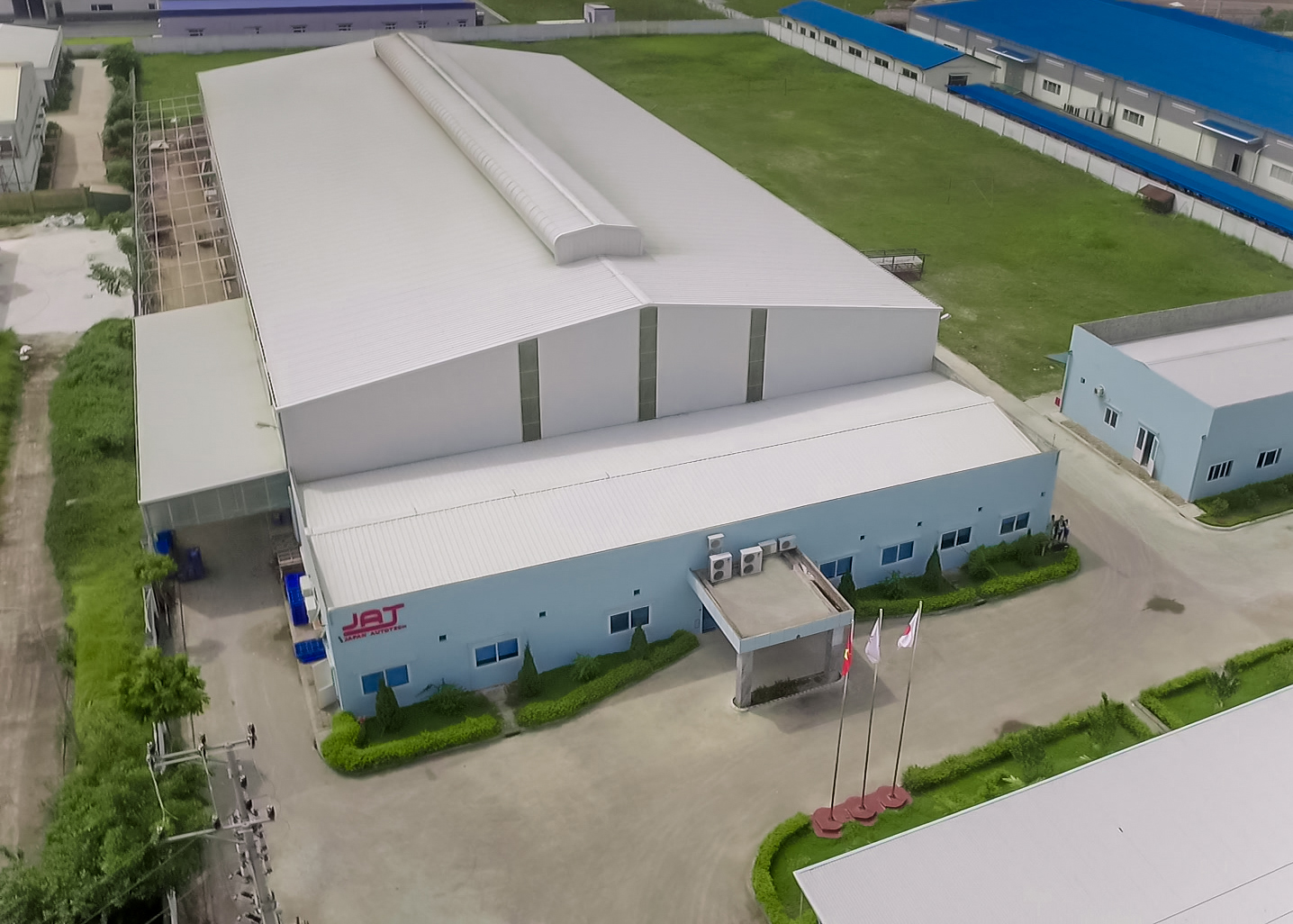 COMPANY INFORMATION
Full name: JAT autoparts and industry equipments production joint stock company
Short name: JAT.,JSC
Address: Lot II - 8.2 Que Vo Industrial Pack - Ngoc Xa Commune - Que Vo District - Bac Ninh Province
Tel: (+84)2223623069 Fax: (+84)2223623068
Total area: 15.000m2
Our History: Proceeded from a small workshop specializing in manufacturing mechanical equipment, machining Jigs, inspection Jigs started up in 1998 and then was established JAT autoparts and industry equipments production JSC on January, 2008 specializing in fabrication of motorcycle components, we has undergone a process of incessant development and efforts so that JAT could stand in a solid position in the market and be a good choice for major partners in and outside the country .
Our HR includes:
- Management team: JAT has a team of well-trained and experienced managers; the main managers have been trained and worked with Japanese experts, and been trained abroad.
- The Company has policies focusing on developing human resources, in order to constantly develop and enhance the skills of each individual.
MISSION:
"We, the JAT Auto Parts and Industry Equipment Production Joint Stock Company makes commitment to incessant innovation, creativity and continuous improvement, application of lean management process, efficiency and optimization of the resources use to bring our customers the best benefits as stable quality of product as the request, competitive pricing, timely delivery and perfect service of post-sales. Thus, we not only bring value to the company's related parties and partners, but we also contribute to raise society - the surrounding community better and more prosperous."

VISION:
JAT.,JSC is oriented to develop into a leading enterprise in the field of supporting industries, deeply participating and playing an active role in global and regional value chains.

CORE VALUES:
Credibility to customers, vision, creativity, flexible dynamism, pride and the continuous development of staffs are the core values which are the basis for the development JAT Auto Parts and Industry Equipment Production Joint Stock Company and contribute to its constantly evolved in the market.

BUSINESS ETHIC:
The Company's guiding principles is to give prominence to the honesty and transparency in the transactions, the consistency of working principles, to provide kinds of spare parts, components with stable quality at reasonable price, and to ensure the progress to create customer satisfaction, to put the interests of customers first, and to positively contribute to the development of society, community and protection of the environment.

OUR MARKETS:
In the domestic market: JAT Auto Parts and Industry Equipment Production Joint Stock Company provides customers with mechanical components and spare parts in industry of manufacturing and assembling automobiles, motorcycles and industrial applications, appliances and interior furniture.
The currently main customers includes Piaggio, Honda, VAP, Roki etc ... and the Japanese
The export markets of the Company: We offer to the Asian market in 2011 and subsequently we also export our products of the automotive components to Thailand and Japan in 2014.

ACHIEVED CERTIFICATES:
ISO 9001: 2015 granted and implemented in 2017, which has been monitored and evaluated periodically by Moody International Verification Organization.

ISO 14001:2015

KITA Certificate of

Practical Coporate Management for Productivity Improvement for Viet Nam

(B) organized by JICA and granted by

Kitakyushu International Techno - Corporative Association

IATF 16949

RoHS Compliance
"Satisfying the needs of customers is our top goal"